The Pre-Construction Buyer Guide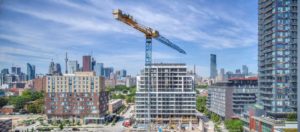 The downtown Toronto resale condo market has been a real challenge for those looking to purchase a condo. Especially for both end-users and investors alike, this has been the case. Because of low inventory and continual bidding wars, many investors and first-time home buyers are turning to buying pre-construction versus resale. While buying pre-construction is both exciting and lucrative, it's a far more complex process than buying resale. There are many common pitfalls to avoid. That's why it's important to know what to look out for as a pre-construction buyer.
With the Toronto real estate market, there are many things to think about when it comes to pre-construction. From my experience in selling pre-construction development projects on behalf of developers and assisting hundreds of clients through the process of acquiring pre-construction properties, there are a number of need-to-know's. Before proceeding with a pre-construction condo purchase, here are 12 considerations you should be aware of.
1. Know the Developer
When looking at pre-construction, you are essentially purchasing something that hasn't been built yet. That's why you need to do your due diligence and research the developer. There are always risks to consider when buying pre-construction. However, those risks can be mitigated when you choose to buy from a reputable developer – one who has a great track record. Research with these questions in mind:
•How long has the developer been in business?
•What were their past projects?
•Do they have a good reputation in dealing with their purchasers?
•What is the quality of their work?
Simply put, you never want to buy from a developer who's on their first project or one with a bad reputation.
2. Location, Location, Location
It's a common saying in real estate, that it's all about location. Looking at the Toronto real estate market, this is especially true. When purchasing a condo that may not be completed for 3 to 5 years, your ability to see into the future becomes even more magnified. Ask yourself:
•Is the area gentrifying?
•Will there be transit or any large infrastructure projects?
•What is the access to parks, coffee shops, and restaurants like?
•Will this area or submarket outperform the overall Toronto market?
These are all important investment and lifestyle considerations to think about as a pre-construction buyer.
3. The Cost of Amenities
It's important to consider, "what are the amenities and the costs associated"? In reality, most residents don't really use the amenities available to them. And, over time, amenities can cause maintenance fees to rise, which in turn increase monthly carrying costs. With this, these fees can put downward pressure on appreciation, especially as buildings begin to age. Although a state of the art gym and infinity pool look great on a sales brochure, the question any investor should be asking is, "how will this impact my ROI"? Similarly, as the end user, you should be asking, "will I actually use these these amenities more than once a year to make the added costs worth it"? While every pro-forma and individual will look at this differently, it is nonetheless, important to consider.
4. Get a Good Look at the Floor Plan
It's paramount that you choose a good floor plan. Your choice of floor plan can be a make or break decision for your investment or future home. Especially as a pre-construction buyer, purchasing from a floor plan can be difficult. So, think about some of these considerations:
•The best condos are the ones that have the most natural light.
•Wide and shallow floor plans are superior to long and narrow ones, which often tend to be darker.
•Does the master bedroom have a door?
•Are the ceilings stipple?
•Is a kitchen island or option to have one available?
•Will you be able to hookup a gas BBQ?
Envision what this will look like from an investment perspective – whether that's for the eventual tenant or buyer, or as a future home.
5. The Deposit
When acquiring a pre-construction property, the deposit (typically 20%) is spread out over time. While it can vary, it's usually broken down into payments of 5% across a timeline like so:
•30 days
•90 days
•365 days
•And then, the final 5% on occupancy (which could be 3 to 5 years away, presuming you purchased at launch)
Generally, price isn't negotiable. In some instances, deposit structure can be pushed out, which can be helpful to an investor looking to preserve cash flow or to a first-time home buyer on a budget.
6. The 10-Day Rescission Period
By law, when you purchase a new home in Ontario, you have what's known as a 10-day cool off period. This means, from the time a purchaser receives an executed copy of their agreement from the developer, they have 10 calendar days in which they can walk away from the agreement with no recourse. This law is in place to ensure that buyers aren't pressured into a sale at a showroom. In other words, it gives you time to "cool off" and do your own soul searching and due diligence before firming up.
We always highly recommend that you do most of, if not all, your due diligence and soul searching prior to signing an Agreement of Purchase and Sale. Otherwise, your 10-day rescission period could be a fairly traumatic experience full of second guessing yourself. It's always best to objectively evaluate an opportunity before you are fully vested into it.
7. Hire a Real Estate Lawyer that Specializes in Downtown Toronto Pre-Construction Condos
A new home Purchase and Sale Agreement is a very thick document. Besides this, signing on for a new home can be quite intimidating! While fairly standard, these agreements are written by lawyers and can be somewhat one-sided to favour the developer. It cannot be stressed enough, how important it is to have a real estate lawyer – one that specializes in this line of work – to review the documents for you during the 1o-day rescission period. An expert lawyer in Toronto pre-construction will know what to look for, where the anomalies are, and what in the contract is up for negotiation.
Furthermore, these lawyers have the experience to guide a pre-construction buyer in the right direction. They will be able to walk you through the document and outline your commitments and closing costs. In fact, the closing costs – including developer charges and taxes – can be upwards of $75,000. And, since you can't roll these costs into a mortgage, it's important to be aware of what could be coming down the pipeline in 3 to 5 years, should you decide to move forward.
8. Understand the Assignment Clause and Right to Rent During Occupancy Period
The right to assign means that you, as the purchaser, have the right to sell your contract to another buyer prior to occupancy. This is beneficial to have as part of your agreement. It gives you the option to sell the property so that you're not locked in until close. However, make sure to read the agreement fine print for any limits to your ability to assign the property – something that should be reviewed with your lawyer. With this, check that you have the contractual right to rent out your property during the occupancy period, as in many instances, the developer will not allow for it. This condition is important, even if you are intending to live in the condo since many things can change over a period of 3 to 5 years.
9. Expect Condo Maintenance Fees to Rise
As a pre-construction buyer, you should keep in mind that the developer is making assumptions on what the condo budget could be like once the building is complete. More often than not, the developer is incentivized to make these projections appear as low as possible to appeal to a prospective purchaser (like yourself). In reality, upon completion, the condo corporations may find themselves underfunded and because of this, increases to the monthly maintenance fees result. Any investor or end-user running a pro-forma should always take this into account.
10. Think About Interim Occupancy
The interim occupancy period is when you get the keys and possession of the condo. But, you do not actually own the property until the building registers and ownership transfer from the developer into your name. Another key point: this is when your mortgage kicks in. On average, the interim occupancy period can take from 3 to 9 months. During this time period, you are paying what is known as a "fantom mortgage". This consists of interest on the principal owning plus maintenance fees and property taxes to developer. And, this occurs on a monthly basis until the building registers. Furthermore, during the interim occupancy period, you will not be making any mortgage payments on your principal.
11. Factor in Closing Costs
There are a lot of costs to consider as a pre-construction buyer. Specifically, these are costs that are due on close and which are not on the developer's price list or disclosed in their marketing material. It's imperative that you have a qualified lawyer review all these costs so that you can properly evaluate the opportunity. What's more is that you're not taken off guard when the property closes 3 to 5 years from now. The average closing costs can range from 2 to 4%. These costs include, but are not limited to:
•Development charges
•Land transfer taxes
•Utility connection fees
•Education levies
•Park levies
•Reserve contributions
•…and, the list goes on.
The moral of the story is, don't get caught off guard! Know your costs and what can be capped at the time of purchase.
12. The HST Rebate
The HST rebate is not always clearly explained at the time of purchase. So, it's important to understand that HST (unlike resale) is applicable to all new home purchases. As a pre-construction buyer, if you are an end-user (meaning, you are going to live in the condo), the developer will pay HST and will, in turn, have the right to apply for the rebate. If you are deemed to be an investor, you will have to pay the HST owing and have the right on your own behalf to apply for the rebate. You should speak to your lawyer prior to purchasing or before going firm, so that you are clear on how this could financially impact you on closing.
Pre-Construction Buyer Questions?
As you can see, there are many considerations to be taken prior to purchasing a new home, especially as a pre-construction buyer. This is a big purchase! So, there's one more thing to consider – make sure you have the right team behind you to help you ask all the right questions (and answer them too). The Townsend Team knows pre-construction, and we can be your team.
Michael John Lau, Salesperson
The Townsend Team Real Estate Network
Century 21 People's Choice Elite Realty Inc.
Direct:  (647) 308-9000  |  Office:  (416) 238-9667
michael.lau@century21.ca